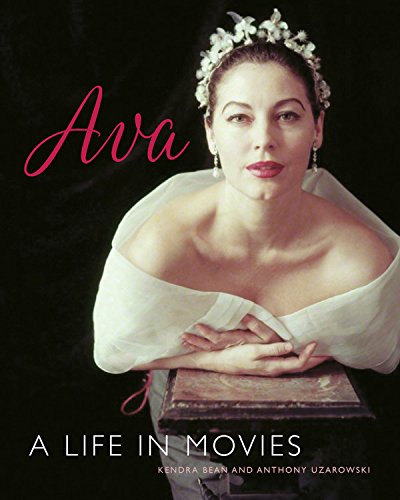 Forthcoming – Running Press, July 3, 2017 (US) / July 27, 2017 (UK)
Synopsis: Still renowned for her sultry screen performances, down-to- earth personality, and famed lifelong love affair with Frank Sinatra, Ava Gardner left an indelible mark on Hollywood history and led a life as adventurous as any film script.

Ava is an illustrated tribute to a legendary life. Authors Kendra Bean and Anthony Uzarowski take a closer look at the Academy Award-winning actress's life and famous screen roles. They also shed new light on the creation and maintenance of her glamorous image, her marriages, and friendships with famous figures such as Ernest Hemingway, John Huston, and Tennessee Williams. From the backwoods of Grabtown, North Carolina to the bullfighting rings of Spain, from the MGM backlot to the Rome of La Dolce Vita, this lavishly illustrated biography takes readers on the exciting journey of a life lived to the fullest and through four decades of film history with an iconic star.
Running Press, 2013
Synopsis: Through both an in-depth narrative and a stunning array of photos, Vivien Leigh: An Intimate Portrait presents the personal story of one of the most celebrated women of the twentieth century, an engrossing tale of success, struggles, and triumphs. It chronicles Leigh's journey from her birth in India to prominence in British film, winning the most-coveted role in Hollywood history, her celebrated love affair with Laurence Olivier, through to her untimely death at age fifty-three in 1967.
---
Essays
Exhibition booklet essay for The Weight of History, Bethlem Museum of the Mind, Beckenham, 2016.
"How the glamour shot changed Hollywood" – presented at the Walt Disney Family Museum, San Francisco, April 2015.
"Vivien Leigh: Stardom and Screen Image" – presented at the V&A, London, February 2014.
"Vivien Leigh: An Intimate Portrait" – presented at the National Portrait Gallery, London, November 2013.
---
Film Introductions
Anna Karenina – The British Museum, June 2017
The Roman Spring of Mrs Stone – Ham Yard Hotel, October 2014
A Streetcar Named Desire – Egyptian Theater (Hollywood), with Marlon Brando biographer Susan Mizruchi and historian Foster Hirsch, August 2014 | Institut français (London), with Tennessee Williams biographer John Lahr, December 2014