I may or may not have decided on a whim to scrub my author website of all of its content this past weekend and start fresh. A scorched earth approach, to be sure, but I'm not sad about it. This site had been languishing in a dark, musty corner of google for a long time. My motivation for blogging in general has been lagging for the past couple of years, and when I do find a spark of inspiration, it usually goes into
vivandlarry.com
. 
So why a site revamp, and why now? While I may have treated my author/personal blog like a friend I rarely spoke to, I haven't exactly been sitting around twiddling my thumbs — only sometimes! Last month saw the publication of my new book,
Ava: A Life in Movies
. Co-written with my good friend
Anthony Uzarowski
, the book is a tribute to film icon Ava Gardner. It's not something I mentioned much on my old blog, not because I didn't want to share in the process of researching, writing, and publishing, but because Anthony and I had an awful time dealing with the woman who, until recently, presided over the Ava Gardner Museum in Smithfield, North Carolina. I won't go into the situation in detail, but I will say that it was very stressful and disheartening, and it unfortunately sucked a lot of the joy out of the project. As Ava herself would probably have said, "That's bullshit, honey!" But we persevered, and the book is now in stores. I know I speak for both Anthony and myself when I say that we are very proud of the finished product, even more-so considering the rough journey!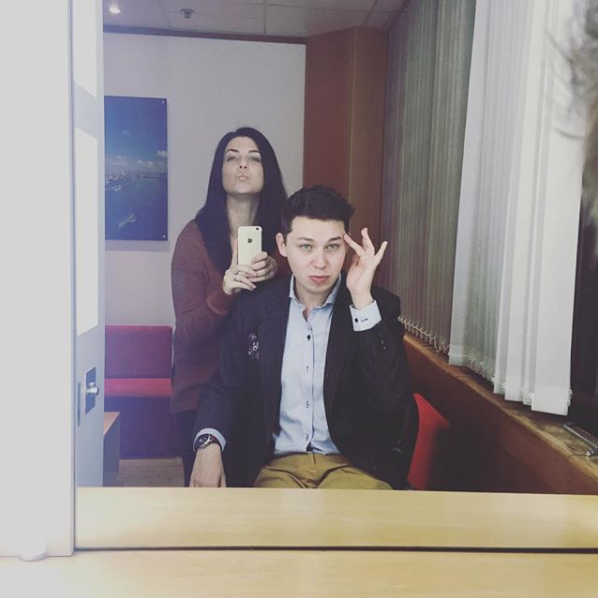 In the green room before promoting Ava: A Life in Movies on Australian TV
You may be reading this and asking yourself, "When did you become interested in Ava Gardner?" The answers is: two years ago. Ava isn't someone that I ever considered a favorite, and in fact, before staring on this project, I had only seen
Mogambo
, the 1953 film she made with Clark Gable (because I love Clark Gable). But it's always good to branch out, so I took my agent's advice and decided to do just that.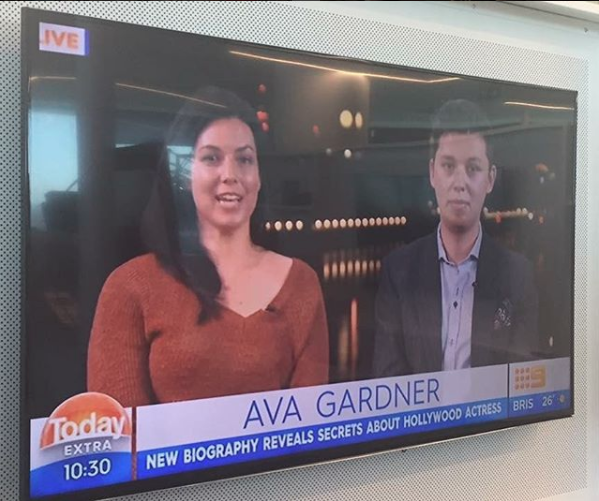 Appearing on
Today Extra
in Australia, live from London. We had to film at 1:30 am!
I've known Anthony Uzarowski for years. We actually met through vivandlarry.com. When I moved to London in 2010 we met up in person and instantly bonded over our mutual love of classic cinema and the fact that we have nearly identical personalities. Since then Anthony has become one of my dearest friends and he was even my man of honor at my wedding last October. It was Anthony's enthusiasm that got me interested in Ava Gardner, and we decided it would be fun to tackle the subject as a team. This project was a great challenge for me because, unlike with
Vivien Leigh: An Intimate Portrait
where I literally had binders full of information before approaching the starting block, I had to start from scratch with the research.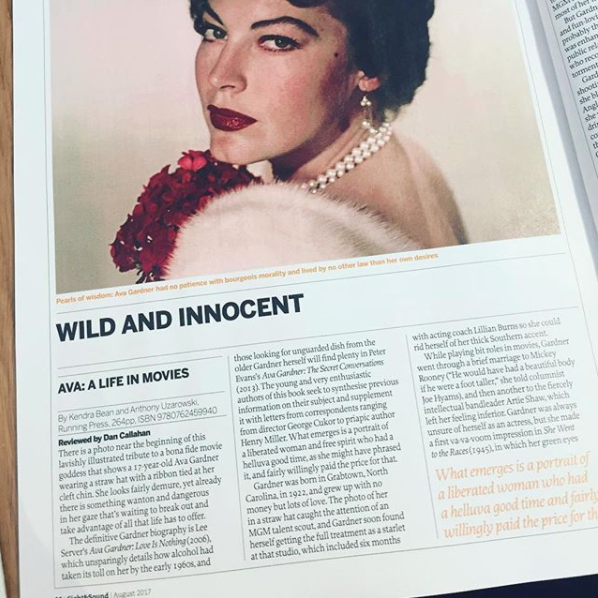 Ava reviewed in
Sight & Sound
.
It was a lot of fun discovering Ava, gaining a real appreciation for her work and her whirlwind life. So far
Ava: A Life in Movies
is getting good reviews and we are both delighted that people seem to be enjoying our work!
In terms of this redesigned website, I'm challenging myself to keep it up to date. If I fall behind, please feel free to give me a good kick in the pants.